For the experimenter who doesn't want to build his or her own receiver from scratch, there are several sources that will provide completely built receivers or receivers in kit form.Building a kit is a great way for you to learn about the workings of a Natural Radio receiver, plus have the satisfaction of monitoring on a receiver that you built yourself.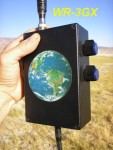 WR-3 Natural Radio Receiver Stephen McGreevy's WR-3 receivers have become a standard in natural Radio listening because of their quality, portability and ruggedness. I've had mine for a number of years and it's always ready to go and small enough to easily pack for any listening adventure.The WR-3 has been in production since September of 1991 and has undergone extensive testing in the field. Stephen's extensive collection of Natural Radio recordings is a testament to the quality of his receivers. The populated and tested circuit board is also now available if you want to provide your own enclosure.
http://www.auroralchorus.com/wr3gx.htm

INSPIRE VLF-3 Receiver The INSPIRE VLF-3 is the third version of the popular receiver used by students and others to observe Natural Radio and other Low Frequency emissions. This receiver is very flexible in setup and has the controls and enhancements necessary to make recordings that can be properly logged for further study. The VLF-3 is available in kit form only.
http://theinspireproject.org/default.asp?contentID=27

LF Engineering L-600S H-Field Loop Receiving System The LF Engineering L-600S H-Field Loop Receiving System is probably the only readily available manufactured Loop Receiver. This type of receiver uses a loop antenna instead of a probe and responds to the magnetic portion of the Natural Radio signal. This type of receiver should perform better in locations that have a lot of trees or other obstructions that decrease the sensitivity of an E-Field receiver.Loop antennas are also directional which may help nulling out hum and other interfering signals. I have an earlier version of this receiver which performs well.
https://www.lfengineering.com/products.cfm#ELF%20Antennas
Page created by Mark Karney